Der Innenminister Sander Leshi, der Georg Soros Bürgermeister von Tirana, verkünden diese Wahlbetrugs Methoden, wenn man die alten ID Karten einfach verlängert, wo es mindestens 4,4 Millionen Karten gibt, bei nur 2,8 Millionen Einwohnern, und viele gaben durch Auswanderung ihre Staatsbürgerschaft ab. Viele sind verstorben und ansonsten organisiert die korrupte EU Commission, von niemanden gewählt. Justiz brauchen wir nicht: Zitat Hillary Clinton: "wer Wahlen gewinnt, bestimmen wir" ! und Steinmeier ist der Promoter der Verbrecher Kartelle, wo ja ständig Fortschritte attestiert werden.
Der nächste Betrug ist geplant, bei den Kommunalwahlen (30. Juni 2019), durch die EU finanzierte Drogenverteil Stelle: Albanien: Abgelaufene ID Karten, auch für die Mehrfach Wahlen, sind gültig bis 31.1.2019, womit der nächste Betrug geplant ist. Lt. Angela Merkel, der EU, des korrpten Knut Fleckenstein, gibt es "erhebliche Fortschritte" in Albanien, was der nächste und Standard Betrug ist.
Am 31.12.2018, sind die 1,4 Millionen in 2009 ausgestellten ID Karten abgelaufen, welche Ferdinand Poni (verstorben), für die Berisha, Lulzim Basha Mafia für den Wahlbetrug in 2009 ausstellten, inklusive der Verteilung der Küsten Grundstücke an kriminelle Clans. Kriminelle Bürgermeister, wie Elvis Rroshi, fuhren mit 5 Identitäten nach Deutschland und Europa, als man das Betrugs Modell der Deutschen übernahm, was ja mit dem Bundesdruckerei Skandal mit Ludgar Vollmer auch so geplant war vor 18 Jahren rund um den Visa Skandal. Im Mafia Modell, wurden die ID Karten, noch bis 31.12.2019 für gültig erklärt, die nächste Wahlfälschung gezielt organisiert, wo Berisha, Ilir Meta, Edi Rama einschlägig bekannt sind, und die kriminellen Clans, welche das Spektakel finanzieren.
1,4 Millionen ID Karten, Pässe sind abgelaufen und was nun?
Wahlreform und niemand glaubt mehr der peinlichen EU Commission und Delegation, oder der Hirnlosen "Selfie" Foto Termin D. Botschafterin Susanne Schütz
Head of the Central Election Commission in Albania voices his concerns about the electoral reform
With the local government elections only five months away, the head of the Central Election Commission in Albania, Klement Zguri has expressed his concern today about the delays in the electoral reform.
"Time is crucial. Parliament needs to make the necessary amendments in the Electoral Law in order for our institution to do its best  to push this process forward", Zguri says.
The political situation in the country is more and more similar to the one before the 2017 general elections, when a last minute agreement between PM Rama and opposition leader Basha enabled the registration of the political parties in the electoral race, while all legal deadlines had expired.
The head of this institution, Klement Zguri says that he does not intend to repeat this scenario.
"Of course, political parties need to comply with the deadlines and legal procedures. This is unacceptable and if there are such cases, then they should be reflected in the law, because this is the only way CEC could proceed with decision making", Zguri said.
Meanwhile, the Central Election Commission in Albania is two members short. The two members in question are proposed by the opposition. /ibna/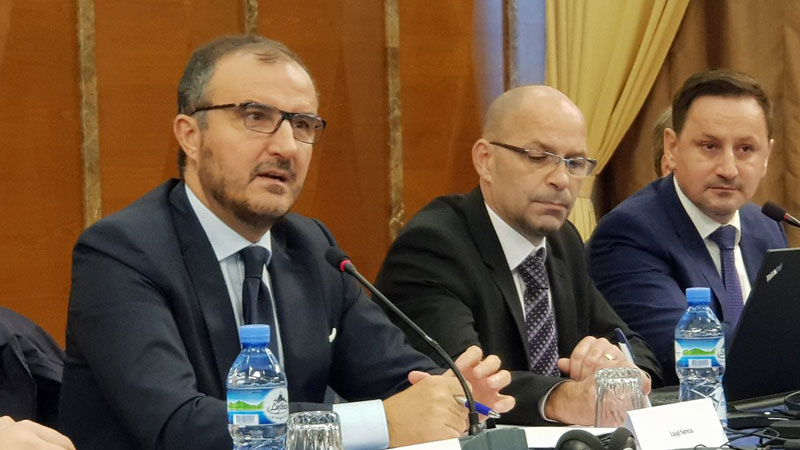 EU ambassador: "Electoral reform, key to Albania's EU integration"
Die Mord Progrome des Auswaertigen Amtes an den Investoren in Albanien
Das fast 20-seitige Protokoll wurde vom BKA und dem ebenfalls eingeweihten BND unter Verschluß gehalten – bis es im Oktober vergangenen Jahres plötzlich auf unerklärliche Weise illegal im Internet landete und die Machenschaften bis zum Mord in Tirana dokumentierte, durch die Joschka Fischer Diplomaten Mafia, welche versuchte so den Skandal zuvertuschen. "Zu Ronnis Freunden zählten aber nicht nur Landsleute und Dealer. Auch eine Gruppe einflußreicher europäischer Diplomaten und deutscher Manager, die sich in Albanien niedergelassen hatten, schätzten seine Gesellschaft." aus: http://jaessl.wordpress.com/2011/01/15 Mindestens 2 Deutsche erhielten Politischen Asyl, als die Joschka Fischer Bande, jeden verfolgte, darunter G.B. und Herr Rossner.
fast 20 Jahre Profi korrupte Vertreter, wie Eugen Wohlfahrt, die EU Botschafterin und der korrupte Knut Fleckenstein, Johannes Hahn. Schaffen die jetzigen EU und OSCE Vertreter die Wahl Reform? Gekaufte Wahlen in Albanien, Kosovo sind Standard Zgjatet përdorimi i kartave të identitetit, Veliaj e Lleshaj: Të vlefshme deri në 31 dhjetor 2019
Kryebashkiaku i Tiranës, Erion Veliaj dhe ministri i Brendshëm, Sandër Lleshaj kanë bërë me dije për qytetarët lajmin e zgjatjes së vlefshmërisë së letërnjoftimeve elektronike që skadonin këtë vit deri më 31 dhjetor 2019. Njoftimi u bë gjatë një vizite në zyrat e reja të kompanisë "Aleat" në Rrugën "Bardhyl", të cilat u vijnë në ndihmë 120 mijë banorëve të Njësive 3 dhe 4. Sipas tyre, Bashkia e Tiranës, në bashkëpunim me Ministrinë e Brendshme dhe kompaninë Aleat, kanë nisur punën për hapjen e zyrave të reja në të gjithë qytetin, ku qytetarët mund të aplikojnë për rinovimin kartave të identitetit edhe ditën e shtunë e të dielë. "
Do të kemi amendime ligjore, që pavarësisht nga data kur skadon karta në vitin 2019, skadimi final do të jetë 31 dhjetori i 2019-ës. Do të thotë se për të gjithë ata që nuk e kanë me ngut, të cilëve karta u duhet për një a dy herë, si rasti i votimeve apo një dokument tjetër brenda vendit, vlefshmëria do të zgajtet deri në datën 31 dhjetor 2019. Ky është një lajm i shkëlqyer për të ulur pak këtë presion dhe për ta shfrytëzuar gjithë vitin",
tha Veliaj.
Zyrat e reja të aplikimit në Njësitë 3 dhe 4 në Tiranë
Ndërsa në fjalën e tij, ministri i Brendshëm, Sandër Lleshaj siguroi qytetarët se me kapacitetet e shtuara nuk do të kenë asnjë pengesë në marrjen në kohë të shërbimit të kërkuar.
………………….
Përgjatë muajve janar-qershor të këtij viti pritej që ti skadonte afati i kartës më shumë se 1.4 milionë shqiptarëve. Një fakt i tillë do të ndikonte në zgjedhjet parlamentare të qershorit.
fl.mi./b.ha.